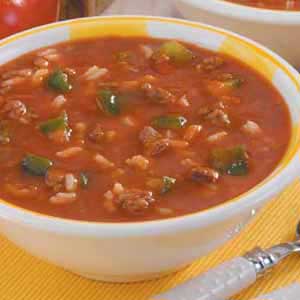 This recipe is from Abby K
I used yellow, red & orange peppers for color, and skipped the mushrooms…that's just my preference.
This was delicious and everyone in my family loved it. Leftovers were perfect to bring in for lunch!

Ingredients:
1 1/2 pounds ground beef or turkey
3 large green peppers, chopped
1 large onion (chopped)
2 cans (14.5 oz each) beef broth
2 cans (10 3/4 oz each) condensed tomato soup, undiluted
1 can (28 oz) crushed tomatoes, undrained
1 can (4 oz) mushroom stems & pieces, drained
1 1/2 cups cooked rice
Directions:
In a large Dutch oven or large saucepan, cook the beef/turkey, green peppers and onion over medium heat until meat is no longer pink; drain.
Stir in the broth, soup, tomatoes, mushrooms. Bring to a boil.
Reduce heat; cover and simmer for at least 30 minutes, stirring occasionally.
Add rice and heat through.
10 servings