If you've never heard of Hungry Girl, you should definitely check out the site, www.hungrygirl.com .  They post recipes for  low fat and low calorie versions of food that would normally be super bad for you.  And if you're following Weight Watchers, they list all the "points values" right on the recipes.  This Mac & Cheese is addictive and with the addition of cauliflower, it's low calorie, low fat, very filling and healthy.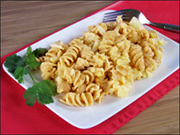 Ingredients:
1 package Green Giant Family Size Cauliflower & Three Cheese Sauce (freezer aisle)
2 cups uncooked whole wheat pasta (I used Barilla Plus elbows)
3 wedges The Laughing Cow Light Original Swiss Cheese
Optional: salt & pepper to taste
Directions:
Prepare pasta according to the instructions on the box and then drain well and set aside.  While pasta is cooking, place contents of the cauliflower and sauce package in a large microwave bowl.  Cover and microwave on high for 12 – 16 minutes, until the sauce is melted and the cauliflower is hot.
Once the bowl is cool enough to hand, remove it from the microwave and add cooked pasta.  Set aside.  Unwrap cheese wedges and place in a small microwave-safe dish.  Microwave for 30 seconds.  Stir until smooth and then add to the bowl.
Mix thoroughly, ensuring the Laughing Cow cheese is evenly distributed and the pasta and cauliflower are coated in cheese sauce.  If you like, season to taste with salt and pepper.  Makes 4 1 cup servings.
Nutritional Information:
Serving Size: 1 cup
Calories: 202
Fat: 4.5 g
Sodium: 36 g
Carbs: 36 g
Fiber: 5 g
Sugars: 6 g
Protein: 8.5 g
WW Points Value: 4