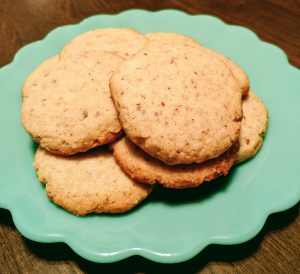 Made these cookies today with a recipe from I Am Baker
Delicious! Pecan Shortbread, not too sweet.
I am adding them to the Christmas Cookie List for this year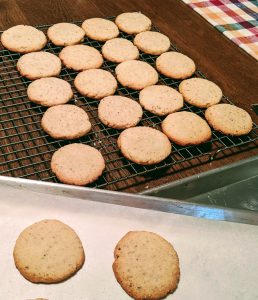 INGREDIENTS
1 cup (2 sticks) butter, softened
1/2 cup granulated sugar, plus additional for pressing
1/2 cup powdered sugar
1 large egg, room temperature
1 tsp  vanilla extract
2 cups all-purpose flour, sifted
1 tsp baking powder
3/4 tsp salt
1 cup pecans, finely chopped
INSTRUCTIONS
Preheat oven to 375°F. Line two baking sheets with parchment paper.

In a large mixing bowl or the bowl of a stand mixer fitted with the paddle attachment, cream the butter, granulated, and powdered sugars together until smooth.

Add egg and vanilla and beat until completely combined.

Add the sifted flour, baking powder, and salt into the creamed mixture and mix until just combined.

Stir in pecans and make sure they are fully incorporated.

Place dough in about 1-1/2 inch balls on the prepared baking sheet about 2″ apart.

Press the bottom of a kitchen glass onto a damp paper towel and then dip it into granulated sugar. Press the glass down onto the dough ball until cookies about 1/2 inch thick. Repeat with all cookies.

Bake 9–11 minutes or until tops of cookies change to a dry look and edges are a light golden brown.

Remove from oven and cool completely on wire racks.
My notes:
This made about 40 cookies. I will definitely double the recipe when I make them for Christmas.
Try a rougher chop on the pecans next time or increase the number of pecans.