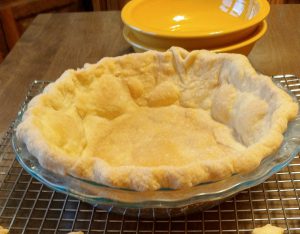 Light, flaky, and delicious!
I found this recipe on The Pioneer Woman's website. I have been using it for a few years and it always comes out perfect. It's very easy to make and work with.



Ingredients:
1-1/2 cup shortening (I use Spectrum Organic Shortening)
3 cups All-purpose Flour
1 whole Egg
5 Tablespoons Cold Water
1 Tablespoon White Vinegar
1 Teaspoon Salt
Directions:
In a large bowl, combine the shortening and flour using a pastry cutter for about 3 or 4 minutes until it resembles a coarse meal.
In a small bowl, beat an egg with a fork and then pour it into the flour/shortening mixture.
Add 5 tablespoons of cold water, 1 tablespoon of white vinegar and 1 teaspoon of salt. Stir together gently until all of the ingredients are incorporated. The dough may feel slightly wet or sticky.
Separate the dough into thirds for 3 crusts. Form 3 evenly sized balls of dough and place each dough into a large Ziploc bag. Using a rolling pin, slightly flatten each ball of dough (about ½ inch thick) to make rolling easier later. Seal the bags and place them in the freezer for 20 minutes or until you need them.
Roll the dough on a floured surface (sprinkling with flour and turning the dough) until it's 1/2 to 1 inch larger than the diameter of your pie pan. Lift one side of the dough and fold it back over the other side of the dough, making a half-circle. Carefully, lift the straight side of the dough to the halfway point on the pie pan and then unfold to cover the entire pan. Gently fit the dough
With a spatula, lift the dough carefully from the surface of the counter into the pie pan. Gently press the dough against the corner of the pan. Go around the pie pan pinching and tucking the dough to make a clean edge.
If you are baking a single pie crust alone, preheat the oven to 400°.  Place aluminum foil gently inside the crust and then use pie weights (or dry rice or beans) into the bottom and up the sides a bit. This will keep the crust from bubbling up. Bake it for about 10 minutes or until the edge just begins to brown. Gently, remove the foil with the pie weights and continue baking until the crust is golden brown. Let crust cool before filling.
---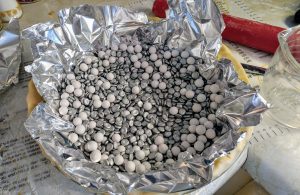 For a 2-crust pie, check out this pie recipe: