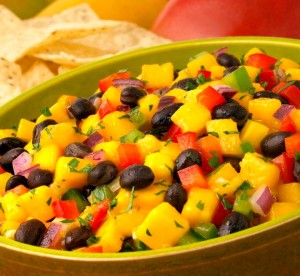 Great Salsa Recipe from Our Best Bites,
quickly becoming one of my favorite cookbooks.
The mango and avocado make it a taste explosion!
Ingredients:
1 can (15.5 oz) black beans, rinsed and drained
1 medium mango, peeled and diced (about 1 cup)
1/2 cup red onion (about 1/2 medium onion)
1/2 cup chopped fresh cilantro
2 tablespoons fresh lime juice
2 teaspoons red wine vinegar
1/2 teaspoon sugar
1/4 teaspoon garlic powder
1/4 teaspoon kosher salt
1/8 teaspoon black pepper
1 medium avocado diced
Directions:
In a large bowl, combine the black beans, mango, red onion, and cilantro.
In a small bowl, combine lime juice, vinegar, sugar, garlic powder, salt, and pepper.
Stir to dissolve the sugar and then pour over black bean mixture.
Cover and chill in the refrigerator at least an hour.
When ready to serve, gently fold in the diced avocado.
Season with additional salt and pepper to taste.