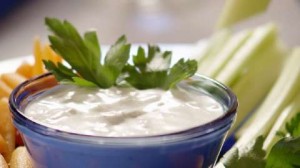 Homemade Creamy Bleu Cheese Dressing
From my cousin, Janet
Ingredients:
2 tsp dry parsley
2 tsp dry onion
1 tsp dry garlic
1 c mayo
1/2 c. sour cream
1 TB lemon juice
1 TB Vinegar
1-1/4 c. crumbled Bleu cheese
1/8 tsp. cayenne pepper (optional)
Directions:
Combine all ingredients, put lemon juice and vinegar in a medium bowl with dry spices, let sit for 5 minutes.
Add mayo, sour cream and Bleu cheese.
Stir in cayenne pepper if desired. Refrigerate for one day before serving.
Keeps for 2- 3 weeks in refrigerator.