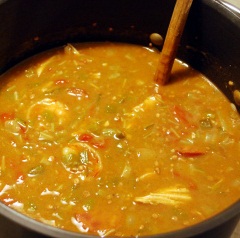 A Rachael Ray recipe from Sue S.
Anxious to try this one…I love gumbo!
Ingredients:
Seasoning Blend:
1 tbsp smoked sweet or sweet paprika

1-1/2 tsp coriander

1- 1/2 tsp ground cumin

1-1/2 tsp cayenne pepper

A few sprigs fresh thyme, remove leaves & chop

2 fresh bay leaves
Trinity-Plus-Two Mix:
1 large onion, chopped

1 large green bell pepper


2 red or green chiles, chopped

2 ribs celery, chopped

4 cloves garlic, chopped
2 lbs boneless, skinless chicken, cut into large pieces

Salt & freshly ground black pepper

1/2 cup flour, plus more for dredging

2 tbsp plus 1/2 cup peanut or vegetable oil

1 lb andouille sausage

1 (15-ounce) can stewed tomatoes or diced tomatoes with chiles

1 (12 oz) bottle beer

6 cups chicken stock

12 oz lump crab-meat or shrimp, peeled and deveined*
*Cook's Note: If serving later in work-week, pick up seafood fresh, if serving on cook-night or as second night's meal pick up crab or shrimp with your big-shop.
1 bunch scallions, trimmed and chopped

1 tsp hot sauce

Serving suggestion: Scallion rice.
Directions:
In bowl, mix the paprika, coriander, cumin, cayenne pepper, thyme, and bay leaves.
Reserve the seasoning blend.
Chop and reserve the Trinity-Plus-Two mix of onion, peppers, celery, and garlic.
Heat a large Dutch oven over medium-high heat.
Season the chicken with salt and pepper and dredge in flour.
Add about 2 tablespoons oil and when hot, add chicken pieces, turning occasionally until browned, then remove to a plate.
Remove the casings from sausage and slice on an angle in large chunks.
Brown the andouille in a drizzle of oil and remove to plate.
Pour off the fat, then add the remaining 1/2 cup oil and 1/2 cup flour, whisk constantly until medium-golden brown in color. Cook's Note: think peanut butter, this takes time, don't rush it and don't stop whisking.
Add the vegetables and seasoning blend to the pot, add salt and pepper and stir 6 to 8 minutes, to soften the vegetables a bit.
Add the tomatoes and beer to the pot and reduce beer by half, 2 minutes.
Add the stock, chicken, and andouille back to the pot, simmer to combine the flavors, then cool completely and store for a make-ahead meal.
To reheat the gumbo: Place the gumbo in a covered pot over medium heat, stir in the crab or shrimp and heat through or cook shrimp, until pink and firm.
Top with scallions and serve with scallion rice, if desired.