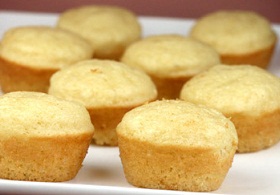 Tired of eating pancakes in shifts?
These are a perfect solution!
This is a slight variation on Bakerella's Recipe…she has the best ideas!

Ingredients:
1 cup flour
1 tsp baking powder
1/2 tsp baking soda
1/4 tsp salt
2 tbsp sugar
2/3 cup buttermilk or milk
1 egg
2 tbsp real maple syrup
2 tbsp melted butter or oil

Directions:
Preheat oven to 350º
Combine baking powder, baking soda, salt and sugar in a medium bowl.
In a separate bowl, stir buttermilk/milk, egg, maple syrup and melted butter until just combined.
Combine wet and dry ingredients and stir well with a spoon.
Distribute batter evenly in muffin pan (if you don't use cupcake papers you will need to spray the pan with oil)
Bake for 8-9 minutes.
Makes 24 mini pancake muffins.
Let cool slightly and remove from the pan.
Serve immediately with warmed butter if you like or with maple syrup for dipping.
I am already thinking about variations…..blueberries, strawberries, my favorite …corn, chocolate chips…