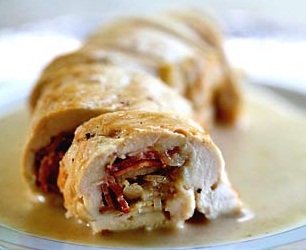 This is a delicious variation on Chicken Cordon Bleu
This recipe is from RecipeGoldMine
I used this picture to give you an idea of what it should look like, but I will post a better picture the next time I make this.

Ingredients:
4 boneless skinless chicken breasts
4 thin slices prosciutto or smoked ham
4 thin slices provolone cheese
4 thin slices Swiss cheese
2 tablespoons plus 1 teaspoon butter
1 teaspoon dried tarragon leaves
Salt and pepper
Directions:
Preheat oven to 350º
Place chicken breasts (one at a time) in a gallon size zip-lock bag and pound with a meat hammer until they nearly double in size and are fairly thin.
Place one slice prosciutto on top of each chicken breast.
Top prosciutto with one slice provolone cheese and one slice Swiss cheese.
Roll up each chicken breast starting at short end and secure with wooden picks.
Melt 2 tablespoons butter in large nonstick skillet over medium heat.
Sauté rolled chicken breasts over medium/high heat for 2 to 3 minutes, turning frequently.
Remove from skillet.
Spread the tsp of butter in a 9×13 pan.
Place the sautéed chicken breasts in the pan and sprinkle them with tarragon, salt and pepper.
Bake for 20 to 25 minutes.