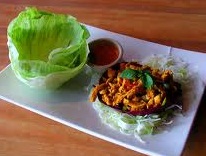 So good!
This recipe is similar to P.F. Chang's Lettuce Wraps.
I found the recipe on Group Recipes
Ingredients:
16 Boston, bibb or butter lettuce leaves (or head of lettuce, rinsed, using large leaves) Hint-cheaper and better hold of the good stuff.
1 pound ground chicken breast
1 large onion – chopped
1/2 Cup Pine nuts, chopped (optional)
2 tbsp minced garlic
1 tablespoon reduced-sodium soy sauce
1/4 cup hoisin sauce
2 tsp minced fresh ginger
1 tbsp rice wine vinegar or red wine vinegar
2 tsp Asian chili pepper sauce (see Note)
1 can (8 ounce) sliced water chestnuts – drained, finely chopped
1 bunch green onions – thinly sliced
2 tsp Asian sesame oil
Directions:
Rinse lettuce leaves, keeping them whole.
Set aside to drain.
Cook chicken in a large skillet over medium heat, stirring often to break up the meat.
Add onion, garlic, soy sauce, hoisin sauce, ginger, vinegar and chili sauce.
Cook until the meat is crumbled and brown.
Add water chestnuts, pine nuts and green onions.
Cook until onions begin to wilt, about 2 minutes.
Stir in sesame oil. Arrange lettuce leaves on the outer edge of a platter.
Spoon meat mixture in center.
Allow diners to spoon meat mixture into lettuce leaves and eat like a taco.
Use sauce of your choice to drizzle over (I like a nice spicy one!)
Note:
Asian chili pepper sauce can be found in the Asian section of most supermarkets.
Some brands contain garlic, which is fine.
You can use 1/8 tsp cayenne pepper or 1/2 tsp dried red chili flakes instead.