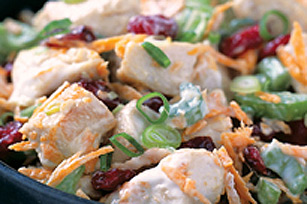 This easy and delicious recipe is from Shirley C
Eat it as is, over lettuce or make it a sandwich!

Ingredients:
3 cups cooked turkey, cut into bite-size pieces
1/3 cup green onion, chopped
1/2 cup Craisins
1/3 cup chopped celery
1/3 cup grated carrot
1/2 cup chopped pecans
For dressing:

1/4 cup mayonnaise or miracle whip
honey mustard to taste
For a little zip, use Nance's Sharp and Creamy Mustard (my favorite!)

Directions:
For the dressing, combine the mayonnaise with the honey mustard to taste, set aside.
For the salad, mix all other ingredients together.
Stir in the dressing.
Refrigerate at least 30 minutes.
Serve as is, over lettuce of your choice, on your choice of bread for a sandwich.