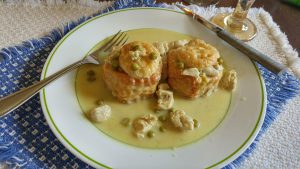 Another of my mom's yummy recipes.
Simple enough to make for a weeknight dinner, but pretty enough for company!
Serve it in patty shells, or over toast or biscuits!

Ingredients:
1/4 cup butter
2/3 cup flour
2 cups chicken broth (I use low sodium organic)
2 cups milk (I use skim)
Pepper to taste
2-3 boneless chicken breasts (cooked & cut into small bite-size pieces)
1 can peas (I use Leseur Baby Peas)
6 Pepperidge Farm Patty Shells (In the freezer section)
Options:
Curry Powder (adds a little butterscotchy taste)
1 bunch broccoli (chopped into bite-size pieces & skip the peas)
1 cup shredded cheddar
Directions:
Bake the patty shells according to directions on the package.
While they are baking, in a saucepan, melt the butter.
Whisk in the flour until thickened.
Whisk in the chicken broth and milk.
Add optional cheese at this point.
Add pepper and curry powder to taste.
Cook on medium flame, whisking frequently until thick & bubbly.
Add chicken and veggies.
Simmer 10-15 minutes.
Fill a patty shell with the creamy mixture, place the top on it and pour more over the whole thing.
Enjoy!

Optional:
Sometimes, I like to change things up.
I add cheddar cheese once the broth and milk mixture is thick and bubbly, stirring until combined.
Then I add the broccoli instead of peas.
Be creative, add veggies of your choice.