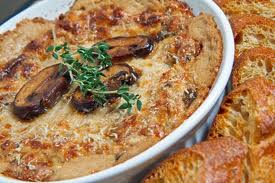 An easy, cheesy appetizer from Peggy B
Ingredients:
16oz fresh sliced mushrooms
3 tbsp butter
2 tbsp flour
1 tsp garlic salt
1/2 cup sour cream (not fat free)
1/2 cup french onion chip dip
1/2 cup shredded cheddar cheese (the color of white cheddar makes a more
picture perfect dip, but yellow works good too)
paprika
Directions:
Melt butter in frying pan
Saute mushrooms until soft
Add flour and stir.
Add sour cream, french onion dip and garlic salt.
Pour into a greased pie plate.
Cover with cheddar cheese, sprinkle with paprika.
Bake at 350 degrees for about 30 minutes.
Serve with sliced baguettes or a sturdy cracker