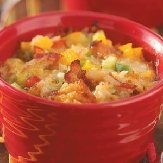 I love Clams Casino!
I use this dip to stuffed mushrooms and make casino fish
Ingredients:

3 – 7 oz. cans chopped clams

1/2 cup chopped green bell pepper

1/2 cup finely chopped onion

1/2 cup chopped pimientos

1/2 stick butter

1/2 teaspoon tabasco sauce

1/2 teaspoon garlic powder

2 tablespoons bacon bits

45 ritz crackers- crushed
Directions:

Drain clams, set juice aside for later.

Combine clams, chopped veggies, Tabasco sauce and garlic powder.

Add crackers and mix.

Add bacon bits to taste.

Melt butter and clam juice in microwave, pour over cracker mixture.

Mix well. (add more crackers if to mushy)

Bake at 350 degrees for 25 – 30 min.

Serve with crackers
Notes:
Stuffed Mushrooms – Fill cleaned mushroom caps with clam casino filling and bake in oven for 25-35 min at 350 degrees.
Casino Fish – Top mild white fish fillets with casino filling and bake in sprayed casserole dish for 30 -35 min at 350 degrees.