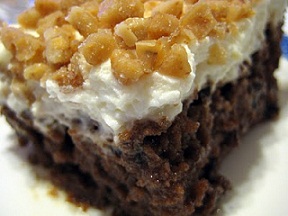 Also a Weight Watcher Recipe – To change this recipe to a "non-Weight Watchers" cake…make cake according to box. Substitute full fat ingredients for the Fat Free
Ingredients:
1 box Devil's Food Cake mix

10-oz Diet Coke or Diet Pepsi

2 egg whites

6-oz fat-free caramel ice cream topping *

7-oz fat-free sweetened condensed milk

1 cup Skor Bar or Heath Bar bits (found by the choc. chips)

1 (8-oz) container fat-free cool Whip
Directions:
Mix cake mix, egg white and diet soda.

Bake at 375 degrees for 35 minutes or until toothpick comes out smooth in a greased 9×13 pan.

During the last few minutes of baking, put caramel and condensed milk in a sauce pan and stir on medium low heat until smooth.

Take cake out of oven, and poke holes all over the top.

Pour caramel mixture over warm cake, filling in the holes.

Cool completely.
(I usually do the next step a few hours before I serve it)

Sprinkle Heath bits over the top , reserving some to garnish.

Cover with container of fat-free cool whip and sprinkle with remaining heath bits.

Put in fridge until ready to serve.