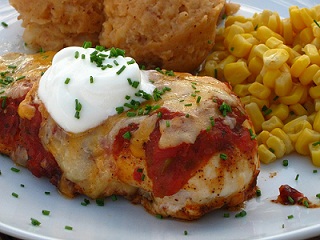 I love using the crock-pot!
This recipe is great, because you can make extra and use it for Tacos and Fajitas another day.
Ingredients:

4 Boneless skinless chicken breasts (I cut the chicken int0 bite-size pieces)
1 package Taco seasoning mix
1/2 cup Chopped onion
1 bottle Mild (or whatever you prefer) picante sauce
1/3 cup sour cream (optional)
1/2 cup cheddar cheese
(If you have fussy eaters, chop up the picante sauce in the food processor and skip the onions)
Directions:
Spray crock-pot with Pam.
Sprinkle taco seasoning over chicken breasts.
Mix onions into salsa.
Place chicken breasts in crock-pot.
Pour salsa /onion mixture over chicken.
Cook on low for 6 – 7 hours.
Serve with cheese and top with sour cream, or shred and use for tacos or fajitas
Servings: 4
Notes: If you want to thicken the sauce a little, just make a cornstarch & water mixture and stir into sauce about 15 minutes before serving.