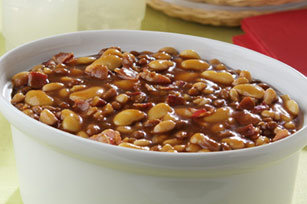 A must for all of our family get-togethers.
Ingredients:
28 oz. can Bush's Vegetarian Baked Beans

15 oz. can kidney beans – drained

15 oz. can butter beans – drained

1 lb. ground beef

1 medium onion – chopped

½ cup ketchup

¾ cup brown sugar

¼ cup vinegar
Directions:

Brown ground beef and onions in large frying pan and drain.

In small bowl, mix ketchup, brown sugar, and vinegar until well blended.

In large bowl, mix beef/onion, beans, and ketchup mixture together gently using large spoon.

Spray casserole dish with cooking spray.

Pour beef and beans in dish.

Cover and cook for 45 minutes at 350 degrees.

You can also use ground turkey in substitute for the ground beef.