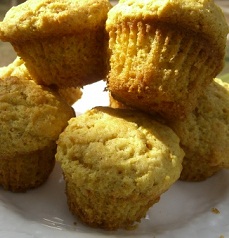 Another great gluten-free recipe from my niece, Monica!

Ingredients:
1 cup corn meal

1/3 cup corn starch

1 cup rice four

2 tsp baking powder

½ cup sugar

½ tsp salt

¼ cup oil

1 cup milk

1 egg
Directions:

Preheat over to 425 degrees.

Mix dry ingredients, then wet.

Butter mini muffin pans.

Fill completely to the top. Bake 20 minutes.