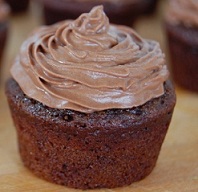 This recipe is  from my niece Monica, her husband Steve has Celiacs
Ingredients:
1 cup brown sugar

1 stick butter

2 eggs

2 teaspoons vanilla

½ cup buttermilk

½ cup PLUS two tablespoons milk
Dry ingredients:
½ cup soy flour

½ cup potato starch

½ cup tapioca flour

½ cup cocoa powder

1 ¼ teaspoons baking soda

¾ teaspoon salt

1 scant teaspoon Xanthan Gum

1 bag mini chocolate ships
Directions:

Place all dry ingredients in a small bowl and stir to mix flours.

Cream butter and sugar using a mixer, add eggs and vanilla, mix, add milks and flours alternately beginning and ending with the flour.

Stir in mini chocolate chips

Put mini cupcake holders in mini muffin tins.

Fill with batter ¾ full.

Bake in preheated 350 degree over for 20 minutes.

Frost cupcakes with any pre-made frosting from the grocery store. Just make sure to read the label to ensure there are no wheat ingredients.