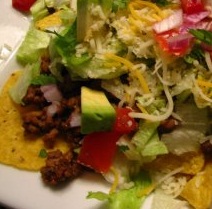 This is a recipe that I got from my mother, who found it in the newspaper years ago.
It's very light, and the homemade dressing is amazing!
Ingredients:
ground beef – 1 lb.
garlic – 1 or 2 cloves, chopped fine
cooking onion – 1 small, chopped fine
iceberg lettuce – 1 head, chopped
sweet onion – 1 small, chopped fine
black olives – 4 oz., sliced
tomatoes – 2, chopped
avocado – 1, chopped
black beans or kidney beans – 1 can, drained
taco chips – 8 oz., crushed
Monterrey or pepper jack cheese – 6 oz., shredded
French dressing (your favorite brand, or try the recipe that follows)
Directions:
Saute the beef, cooking onion, and garlic (use a little oil if needed), until the beef is thoroughly cooked.
Drain the beef.
Put it in a large glass salad bowl or rectangular glass pan.
Add the lettuce, sweet onion, olives, tomatoes, avocado, and beans.
Add the taco chips and toss with the French dressing.
Sprinkle the top with the shredded cheese.
Can be served cold or at room temperature.
French Dressing:
Cider vinegar – 1/4 cup
Olive oil – 1/2 cup
Dijon mustard – 1 Tbsp.
Garlic – 1 or 2 cloves, crushed (I use one)
Ketchup – 2 Tbsp.
Salt – 1/2 tsp.
Pepper to taste
Throw all the ingredients in a jar with a tight lid, and shake until well blended.