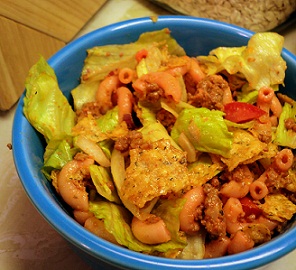 Easy, make ahead appetizer or light summer meal.

My family loved this recipe from my friend, Heidi
Ingredients:

2 lbs ground beef

1 package taco seasoning (I used 2 pkgs of Old El Paso)

1 lb elbow macaroni, cooked


¾ head of lettuce, shredded or chopped (I would suggest Cosmopolitan or Iceberg)

3 – 4 medium tomatoes, chopped

2-3 cups of shredded cheddar cheese

1-16 oz bottle of Catalina dressing

2/3 bag of taco chips, crushed

Optional: salsa, chopped avocado, 1/2  red onion, chopped


Directions:

Day ahead:
Cook noodles according to package directions.

Brown ground beef and add taco seasoning according to package directions. (I like to use a pastry cutter when browning ground beef, it breaks it up very finely.)


Combine cooked beef, noodles, cheddar cheese and Catalina dressing in a large bowl.

Chill thoroughly.
Day of:
Just prior to serving, add the following to the beef & noodle mixture and mix well: lettuce, tomato, optional chopped red onion, avocado and taco chips.

Serve immediately.

If it's not all going to be eaten right away, only add enough of the lettuce mix for the amount of the beef noodle mixture that you are planning on eating. (This works well for leftovers or latecomers.)

If desired add salsa for a bit more spice.
This salad is served chilled…which surprised me with the ground beef and noodles, but it is delicious and is a new family favorite for us!