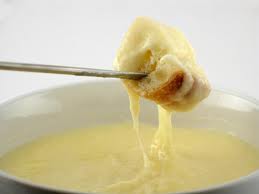 Dip crusty bread, veggies or fruit…use your imagination.
Great as an appetizer or as a meal, pair it with Meat Fondue.
Enjoy a relaxed meal, perfect for conversation and wine!

Ingredients:
½ lb grated Gruyere cheese (rind removed)

½

lb grated Emmentaler cheese (rind removed)

1 clove garlic

1 cup dry white wine (Sauvignon Blanc)

1 tablespoon fresh lemon juice

3 ½ teaspoons cornstarch

pepper and nutmeg to taste
Directions:
Peel the clove of garlic, slice it in half and rub the cut edge on the inside of a medium saucepan.

Throw away the garlic.

Add the wine and lemon juice and bring to a simmer over medium heat.

In a medium mixing bowl, mix the Gruyere and Emmentaler cheese with the cornstarch and toss to lightly coat cheese.

Stir the cheese mixture into the wine one small handful at a time, making sure each handful is completely melted before adding another.

The fondue can bubble slightly, but don't let it boil.

Season with the nutmeg and pepper to taste.

Transfer to a cheese fondue pot and keep warm with burner.

Serve immediately.
Some Ideas for Dipping:


Bite Size Pieces of:
Crus

ty b

read (leave a p

iece of crust on each cube)

Cooked boneless, skinless chicken


Cooked ham

Sausage


Potatoes (baby potatoes are best,toss in olive oil, salt & pepper and roast covered 400

º

for about 45 minutes or until fork tender)

Asparagus spears (Roast first, drizzle and turn to coat with olive oil, salt & pepper, 40

0

º

, 10-12 minutes until fork tender)


Broccoli florets (cook in boiling water  for two minutes)

Cauliflower florets (cook in boiling water for four minutes)

Peppers

Fruit of choice, apple slices are my favorite, grapes, etc.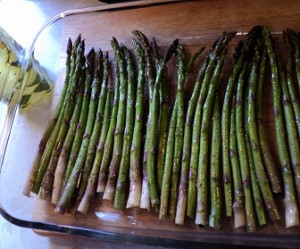 Cooking & Serving Tips:
Don't use a cheap cooking wine for fondue or for any recipe.  Always use a wine that you would drink yourself,
If the fondue is too thick, add more dry white wine, never water. If it is too thin, add more cornstarch and cheese.
Keep the heat as low as possible so the cheese doesn't become rubbery.
4-6 people per fondue pot…I use three, one for the cheese fondue and two for meat fondue.