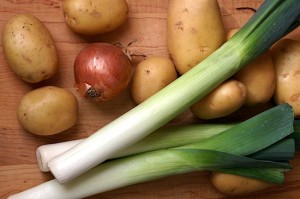 This is my version of  Potato Leek soup from The Joy of Cooking.
Ingredients:
3 medium leeks, white parts only, washed well and thinly sliced
1 medium onion, peeled and minced
2 Tbsp. butter
5 potatoes, peeled and thinly sliced
5 cups chicken broth or chicken stock
2 carrots, peeled and sliced
1 cup light cream
1 ham steak
Steam the carrots, then set aside.
In a skillet, heat the ham steak until it's lightly browned on both sides.   Once it's cool, dice the ham.
Melt the butter in a large saucepan, then stir and saute the leeks and onions for 3 minutes.  Add a little more butter if needed.
Add the potatoes and chicken broth to the sauteed veggies.  Bring to a boil, then simmer for 15-20 minutes.  The vegetables should be soft.
Add the steamed carrots, then puree the soup.  An inversion blender is the easiest way, but you can also use a regular blender or food processor (just messier that way!)
Once the soup is pureed, add the diced ham steak (you may not use all of it, it's personal preference) and the cream.  Add salt and pepper to taste.  Enjoy!!