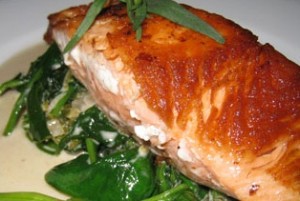 A super quick and easy meal that has lots of calcium and other good stuff in it.
Ingredients:
1 – 10 oz package of frozen spinach (thawed and all water squeezed out)
3/4 cup mayonaise (or for a healthier version, replace some or all with non fat plain yogurt)
1 tbsp dijon mustard
2 tsp lemon juice (or more if you really like lemon!)
1/4 tsp garlic salt
2 six oz salmon filets (cooked as desired, I grilled them on my grill pan with a little salt, pepper and garlic powder)
Directions:
In a small bowl, combine all ingredients except the salmon.  Cover and refrigerate until ready to serve.  Cook salmon as desired and top with spinach sauce before serving.