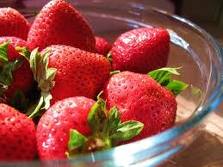 A quick and healthy way to curb a sweet tooth.
Makes 4 servings (3/4 cup each)
Ingredients:
1 – 16 oz package of frozen strawberries
1/2 cup sugar (I used powdered sugar so it wouldn't be grainy)
1/2 cup non fat plain yogurt
1 tablespoon lemon juice
Directions:
Add strawberries and sugar to a food processor.  Pulse until coarsely chopped.  Mix yogurt and lemon juice in measuring cup.  Add to food processor and blend until smooth, scarping the sides of the bowl  as necessary.  Serve immediately.
Nutrition:
Per serving: 150 calories; 0 g fat (0 g sat, 0 g mono); 1 mg cholesterol; 38 g carbohydrates; 2 g protein; 2 g fiber; 19 mg sodium; 173 mg potassium.