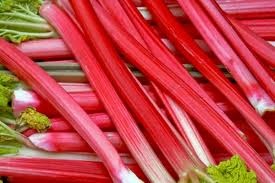 Top with icing or whipped cream
1 1/2 cups flour
1 1/2 tablespoons baking powder
1/2 teaspoon baking soda
1 tablespoon cinnamon
1 cup shortening (Crisco)
1 1/2 cups sugar
3 extra large eggs
1 cup stewed rhubarb
1/2 cup chopped walnuts
pinch salt
Preheat oven to 350 degrees
Butter and flour 8 inch springform cake plan. Set aside
Sift flour, baking powder, soda, cinnamon and salt into large bowl. Set aside.
Cream shortening and sugar together with electric mixer. Add eggs, one at a time, mixing 1 minute between additions.
Stir flour mixture into creamed mixture with spatula. Add rhubarb and walnuts, incorporate well.
Pour batter into cake pan. Bake 1 hour on middle rack of oven. Check for doneness using toothpick in center.
When cooked, remove from oven and let cool. Unmold and if desired spread with icing or serve with whipped cream.