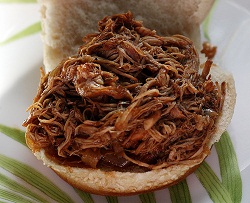 Crock-pot Pulled Chicken
Quick & Easy to put together, let it simmer all day…

Ingredients:
6 boneless Chicken Breasts

1 cup Ketchup

1/4 cup Nance's Sharp & Creamy Mustard

1/2 cup brown sugar

1-2 tbsp Honey

1-2 cups Water

Frank's Hot Sauce (to taste)

Directions:
With kitchen shears cut each breast into 3-4 pieces

Turn crock-pot on low and place chicken in the bottom.
Make the BBQ Sauce:

In a separate bowl combine the ketchup, mustard, brown sugar, honey & hot sauce with a whisk.

Add the water and whisk again

Pour the BBQ sauce over the chicken.

Enough water should be added so that the sauce level is a little higher than the top of the chicken (sauce will be watery initially).

Cook on low 8-9 hours or cook on high for one hour and then low for 6-7 hours.

Before the last hour or so of cooking, take a fork and shred the chicken.
Serve on fresh rolls!
*Amounts are approximate, chicken sizes vary, or you may want to use more or less chicken…just be sure that you have enough sauce to cover the chicken, completely.
Or use store bought BBQ sauce, just remember to add water to it in the same quantities.
Enjoy!