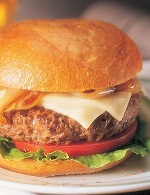 Quick & easy, and so delicious!

This is a family favorite from my mom!

Ingredients:

1-1/2 lbs ground beef
1 package dry Ranch Dressing Mix (Hidden Valley)
1 egg
Directions:
Mix all 3 ingredients together in a bowl and mix thoroughly.
Form into patties.
These burgers can be grilled, fried in a pan or baked in the oven at 350° for 30 minutes.
Make extra and freeze them.
These are awesome with Costanzo Rolls

Skip the Patties Options:
Brown meat mixture in frying pan breaking up with a spatula or pastry cutter then (like Sloppy Joes), add a couple of slices of Velveeta Cheese, stir until melted and serve on rolls.

Place mixture in a loaf pan and bake 45 minutes in a 350° oven.
Keep it simple & delicious, that's what this recipe is about.