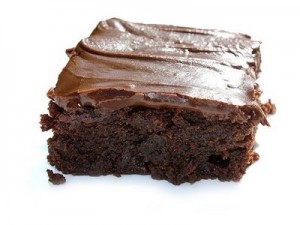 This is another delicious Gluten-Free recipe from Sue R

Ingredients:
2/3 cup Butter Flavored Crisco
2-1/4 cups of Sugar
4 Eggs
3 tsp Organic GF Vanilla
1 cup Tom Sawyer Flour or Kinnik Kinnik All Purpose Flour
1 tsp Baking Powder
1 tsp Salt
1 cup Nestle Semi-sweet Chocolate Chips
1 can Betty Crocker Chocolate Frosting – General Mills Brand
Directions:
Preheat Oven to 350-375°
Melt chocolate & Crisco together over low heat.
Add together other ingredients in mixing bowl.
Mix in melted chocolate; add chocolate chips.
Pour batter into a lightly greased and floured 13 x 9 pan.
Bake 20-25 minutes.
Insert toothpick to check if done.
Frost with Chocolate Frosting as soon as the brownies come out of the oven.
Cool in refrigerator for at least a couple of hours.
They are best refrigerated over night if you have time.
You can find the flour at Feel Rite.