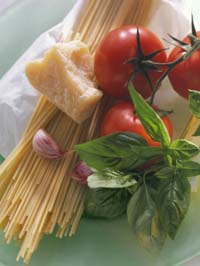 A delicious fresh sauce.
This recipe is a favorite from Not Your Mother's Slow Cooker Recipes for Two

Ingredients:
2 pounds ripe Plum Tomatoes, cored and cut into chunks

5 cloves Garlic, crushed

1/4 to 1/3 cup olive oil

3 – 4 tbsp fresh chopped basil (I usually use more because I love fresh basil)

Salt and freshly ground Pepper, to taste
Directions:
Place tomatoes in the slow cooker.

Pour olive oil over them.

Cover and cook on low for about 3 hours, until the tomatoes have broken down into a sauce. (I usually cook on high for the first hour to warm things up.)

At this point the recipe says 'over a large bowl, put the sauce through a food mill with the coarse sieve blade'…your call, it depends on if you want a smooth or chunky sauce. I usually use my immersion blender to smooth things out a little but for this sauce I like a little chunkiness and I don't have to take it out of the crock pot to use the hand blender.

Season with salt and pepper.

Return to crock pot if you used a food mill.

Stir in basil.

Cover and allow to cook about 15 minutes longer on High.
Can be refrigerated for up to 3 days or in the freezer for up to 2 months.