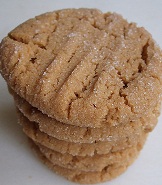 This recipe is from my friend Sue R.
I was skeptical but these cookies are good!

She has Celiac's and will be sharing more Gluten-Free recipes…hint….hint…
This one is for Annie!


Ingredients:
2 cups Brown Sugar
2 cups Peanut Butter
2 tsp Baking Soda
2 Eggs
Optional: Granulated Sugar 1/2 cup

Directions:
Combine all ingredients.
Roll into about 1 inch balls.
Optional: roll in Granulated Sugar
Place on cookie sheet.
Press with fork to crisscross.
Bake at 350° for 10 minutes.