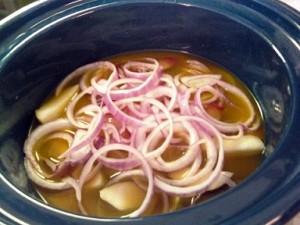 I am cooking this right now and it smells amazing!
Another recipe for your crock pot…it's like someone else made supper for you!
I used a 2 – lb boneless, skinless Turkey Breast, but use what you like, a small whole turkey, pieces, even chicken if you prefer – just adjust your ingredients and cooking time for based on pounds. As always if you don't have certain spices or ingredients, change them up a bit. I like fresh herbs, but I only had dried today. Be creative, you can't mess this up.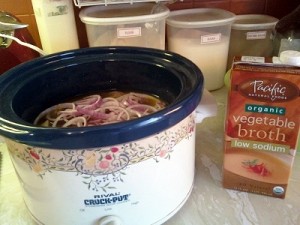 Ingredients:
2 – lb boneless, skinless Turkey Breast

about 32 oz Vegetable Broth (or chicken broth, homemade or store bought, I'm thinking of trying Roasted Red Pepper Broth next time)

1 Red Onion, sliced

1 Apple sliced

1 Orange sliced

1/8 tsp Dried Sage or 1 tbsp Fresh Sage (chopped) I go easy on sage, a little bit goes a long way


1 tsp Dried Rosemary or a couple of branches of Fresh Rosemary, I love using Fresh Rosemary…yum!

1/2 – 1 tsp Sea Salt

1 tsp Fresh Ground Pepper

about 1/2 tsp Paprika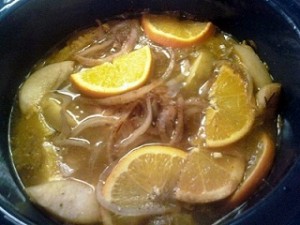 Directions:
Place the Turkey in the bottom of the crock pot.

Pour the Broth over the turkey, the liquid should almost cover the meat.

Add the sliced Red Onion, sliced apples and sliced Oranges.

Sprinkle the Sage, Rosemary, Sea Salt & Pepper over the turkey.

Use a spoon to gently push all ingredients under the liquid. (They'll come back out, but this is just to get the broth over everything.


Put the lid on and walk away.

This can be set on low for 8-10 hours.

I put it on high for an hour and then turned it to low for 5-6 hours.  You know your crock pot, if you don't, set on low for 8-10 hours.

If you use a whole Turkey or Chicken then meat will fall of the bones.

After it's finished remove the turkey.

Strain the liquid into a saucepan.
Make gravy…2 methods
Bring the liquid to a boil

In a shaker or with a fork mix together 2/3 cup cold water and 1/3 cup flour.

Slowly whisk into the boiling broth to desired thickness, reduce heat.
or
Make a Rue 2 tbsp room temperature butter combined with 2 tbsp flour.

Combine together with a spoon or your fingers and then drop small bits into the boiling broth and whisk until thickened and thoroughly combined.
The Rue makes a better gravy in my opinion, but both work.