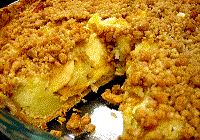 This recipe is from Mike B and it is delicious!

Ingredients:
2 cups apples, peeled, cored and thinly sliced (I like to use a mix of apples)

3/4 cup sugar

pinch of salt

1 egg, beaten

2 tbsp flour

1 cup sour cream

1 unbaked pie shell,

(Pie Crust like Nana's or  Basic Pie Crust ~ 3 Ways)

For topping:

1/3 cup sugar

1/3 cup butter, softened

1 tsp cinnamon
Directions:
For filling, mix ingredients and pour into pie crust. Bake at 375° for 30 minutes or until custard sets.

Remove from oven, but don't turn oven off, lower temperature to 350°.


For topping, mix topping ingredients until creamy. Spread on top of pie, mixing some of it into the pie with a fork.

Return to  oven at 350° oven for 30-40 minutes.