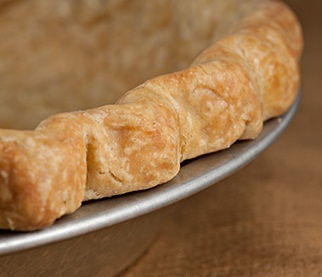 This a traditional pie crust like my Nana made.
I remember working in the kitchen with her, making a sugar/cinnamon tart out of my own little piece of pie dough.
This makes 3 crusts.

Ingredients:
*All ingredients should be cold, especially the lard (throw it in the freezer for 10 minutes if necessary)*

1/2 lb lard (cubed & ice cold) (Why use lard: See below)


3 cups flour

1/2 tbsp salt

1 tbsp apple cider vinegar (Why add vinegar: See below)


1/2 cup water w/an ice cube in it
Directions:
Mix together flour & salt.

Cut in lard with a pastry cutter or 2 knives.

With hands mix in vinegar.

Slowly add enough ice water so that the dough comes together, (you may not use all the water).

Do not over-mix dough.

It's the way the dough feels, it should not be wet or gooey, it should feel smooth and elastic.

If it's not holding together, add a little more water.

If  you've added too much water, add a little flour.

Divide the dough in thirds.

Flatten each dough ball into a disk, wrap in plastic wrap and refrigerate for at least an hour.

Roll out with a little flour.

Place dough over pie pan, trim & tuck under the edges.

Pinch or crimp edge.

With a fork, poke a few holes in the bottom of the crust to keep it from bubbling up when baking. (Pie weights can also be used: See below)

For a single unfilled pie shell bake at 375-400° for 15-20 minutes or until golden brown.


For a double crust, filled pie bake at 400° for 40-45 minutes or until golden brown

Why use lard?
"For years, I wondered why people raved about lard pastry. Mine was either falling-apart-tender or flaky and tough. But I'm glad to have persevered, because a lard crust made well has no equal. It is more tender, more flaky, and more crisp than any other and doesn't shrink even if baked only an hour after mixing. It also browns less fast than a butter crust, making it convenient for pies that require longer baking. Lard crust is ideal for savory pastries. You can use half butter, but it is not quite as light, though very close, and for savory food, I prefer the flavor of all lard. The success of this crust depends on the quality and temperature of the lard." -Rose Levy Beranbaum's The Pie & Pastry Bible
Why add vinegar to your pie crust dough?
When flour is mixed with water, gluten is formed–these are the protein strands that are necessary in yeast bread making, etc. When making quick breads the mixture is only mixed until blended–never over-mixed–so that too much gluten is not formed. The vinegar is used in your pie crust recipe because the acid (along with the shortening) keeps the gluten strands from getting too long–thus resulting in a tender, flaky product.
Using Pie Weights
To partially or completely bake unfilled pastry, preheat the oven to 375° to 400°.

Carefully line the pastry with aluminum foil, pressing it into the corners and edges, and weight with beans or pie weights or rice.

Bake 15 – 18 minutes (10-12 minutes for a partially baked)

When the pastry begins to brown around the edges, remove the foil and weights and continue to bake just until the pastry dries out and turn a light golden color for a partially baked shell and a deeper amber for a fully baked shell.

Let cool completely on a wire rack before filling. Baked shells can be stored in tightly covered plastic containers, or well wr4apped, in the freezer.