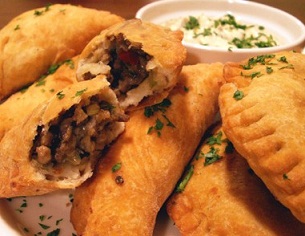 These look & sound amazing…I am making them this weekend!
Reviews to follow!
A Great Recipe From Our Best Bites
For a step-by-step with photos click the link above.

Ingredients:

1/2 lb. lean ground beef

1/2 lb. ground pork

1/2 green pepper, chopped

1/2 red pepper, chopped

1 onion, chopped

2 stalks celery, chopped

5-6 cloves garlic, minced

2+ tsp. Tony Chachere's Creole Seasoning (it's the cheapest, best, and widely available)

Tabasco sauce to taste (start with about 1/4 tsp.)

1 can beef broth

Pie Crust (recipe below)

, tripled

1 egg

1/4 c. cold water
Directions:
In a large skillet, brown ground beef and ground pork, breaking the meat into small pieces.

When it's about halfway cooked, drain excess fat (if necessary) and then add green and red peppers, onion, celery, and garlic.

Cook until vegetables are tender and onions are translucent.

Add 2 tsp. Tony's and 1/4 tsp. Tabasco.

Add beef broth and bring the mixture to a boil over high heat.

Cook for about 20 minutes or until most of the liquid has evaporated.

Season with additional Tony's and Tabasco if necessary, keeping in mind that the seasonings will mellow in the pie.


You can refrigerate this mixture for 3-4 days before baking the pies.

Prepare pie crust and roll the entire ball onto a floured surface.


For large (meal-sized) pies, I use a bowl that's about 6″ across the top; I just invert the bowl onto the dough and trace a knife around it to cut the dough.

Place about 1/4 c. of the meat mixture onto one half of the dough circle, keeping about a 1/2″-1″ margin from the edges.

Fold the other side over and gently pinch the edges shut.

For the decorative edge, you could crimp the edge with a fork or use your fingers to flute the edges.


You could also use a calzone or empanada mold (used in these pictures).

Preheat oven to 400 and spray a baking sheet with non-stick cooking spray.

Place prepared pies onto your baking sheet.


In a small bowl, whisk together egg and cold water and brush over the pies.

Bake 25-30 minutes or until golden brown.

Allow to cool a few minutes and then eat as soon as humanly possible. So good. There are…no words.

Makes about 12 6″ pies or lots and lots of small (biscuit cutter) pies.

FREEZER INSTRUCTIONS: You could do this one of two ways; you can freeze them unbaked and just add the egg wash and bake them for an extra 15-20 minutes, or you can bake them and heat them up in the oven or microwave, whatever suits your needs better.
Pie Crust
Ingredients:
1-1/4c. all-purpose flour

1/2 tsp. salt

1/3 c.+ 1 Tbsp. butter-flavored shortening

Ice water (probably about 1/4 c.)
Directions:
Combine flour and salt in a medium-sized bowl. Add shortening in small cubes.

Cut in shortening (room temperature) until you get pieces that are about pea-sized.

Now, this is where it gets a little tricky, but don't be scared. Start sprinkling the ice water by about a tablespoon at a time over the flour/shortening mixture.

Very, very gently, turn the dough with your fingers so it gets exposed to the water. You're NOT mixing, just trying to moisten all of the flour/shortening mixture. Gradually, all of the flour mixture will be moistened. Gently pat the dough into a ball (it should come together easily but not be sticky).

Wrap in plastic wrap and keep in the fridge until you're ready to use.

Continue with directions above (step 10)