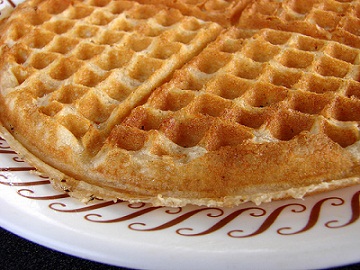 My cousin Jill introduced me to the Waffle House.
If you're ever there be sure to order the hash browns…scattered, smothered and covered!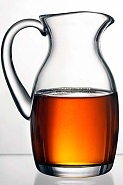 Ingredients:

1-1/2 cups all-purpose flour

1 teaspoon salt

1/2 teaspoon baking soda

1 egg

1/2 cup plus 1 tablespoon granulated sugar

2 tablespoons butter, softened

2 tablespoons shortening

1/2 cup half & half

1/2 cup milk

1/4 cup buttermilk

1/4 teaspoon vanilla
Directions:

1. Combine flour, salt and baking soda in a medium bowl. Stir to combine.
2. Lightly beat the egg in another medium bowl. Add the sugar, butter, and shortening and mix well with an electric mixer until smooth. Add the half & half, milk, buttermilk and vanilla. Mix well.
3. Add the dry flour mixture to the wet mixture while beating. Mix until smooth.
4. Cover and chill overnight. (You can use batter right away if you like, but a good 12-hour chill makes the batter better.)
5. Rub a light coating of vegetable oil on a waffle iron. Preheat the waffle iron. Leave the batter out of the refrigerator to warm up a bit as your waffle iron is preheating.
6. Spoon 1/3 to 1/2 cup of batter into the waffle iron and cook for 3 to 4 minutes or until the waffles are light brown.