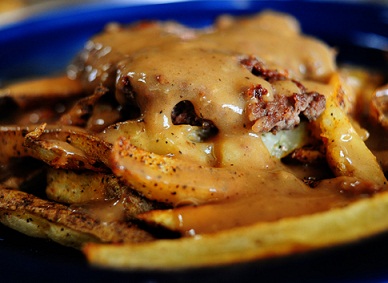 Murphy's Hot Hamburger
I just found this recipe on Tasty Kitchen posted by Alisha
It is definitely a splurge, but I had to share it.
This one is for you Lynnie B!

Ingredients:
1 pound Ground Beef

1 Tablespoon Minced Garlic

1 Tablespoon Onion Powder

1 teaspoon Seasoned Salt

5 Tablespoons Flour

2 cans (14 Oz. Can) Beef Broth OR 4 Cups Water With Beef Bouillon

5 whole Large Potatoes

1 Tablespoon Oil, Or As Needed

Salt And Pepper, to taste
Directions:
Slice potatoes into fries. Place on a large baking sheet.

Pour about 1 tablespoon of oil over the fries and toss with fingers to coat evenly.

Sprinkle fries with seasoning of choice. I use seasoned salt.


Place in the oven. Bake for approximately 45 minutes or until golden and crispy.

In a mixing bowl, mix hamburger, garlic, seasoned salt, onion powder and salt and pepper.

Mix well with hands. Form 4 large patties. I like to make really rustic, greasy diner-style patties with no uniform shape.


Place in a large preheated skillet over medium heat, preferably one with deep sides. Brown burgers on each side until done.

Remove burgers from the skillet and place on a plate covered in paper towels. Do not drain the grease.

Add the flour a tablespoon at a time, stirring with a whisk. You have enough when the grease is all absorbed and the flour mixture gets thick and bubbly.

Slowly add the broth a little at a time, whisking constantly.


Bring to a simmer and allow to thicken.

To serve, place an ample amount of fries on the plate.


Place a hamburger on top of the fries and cover it all amply in gravy. Enjoy!