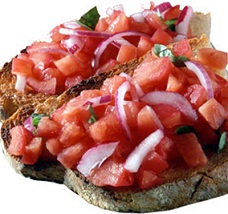 Makes a great appetizer or a nice side dish..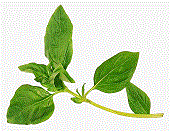 Ingredients:

1 loaf Batard French Brea

d
2 cans Petite Cut Diced Tomatoes (drained)


Diced red onion (1/2 onion)

1-2 cloves garlic, minced

Wegman's basting oil, or an herb flavored oil


Fresh chopped Italian basil, 8-10 leaves (fresh is best but dried can be used)

Fresh chopped oregano, small bunch pulled from stems (fresh is best but dried can be used)

Feta cheese (1/3 –1/2 cup)
Directions:
Mix all together and add oil to taste, enough oil hold it together but not be drippy.

Cover and refrigerate ½ hour.

Slice bread thin (about 1/2 inch) and put on a cookie sheet in a 400° oven until crisp and slightly brown at edges.

Serve toasted bread in a basket with bruschetta in a bowl on the side.

Let guests spoon their own, this eliminate soggy bread.