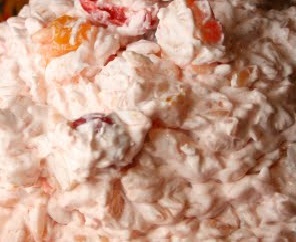 Taff's Florida Fruit Salad
Pasta & Fruit…perfect for a cool summer side dish!

Ingredients:
1-1/4 cups Rosa Marina Macaroni #37

2 small cans chunk pineapple, drained, sit juice aside


2 large cans Mandarin Oranges

1 cup sugar

1/2 tsp salt

2 tsp flour

2 eggs

8 oz Cool Whip

Directions:
Cook macaroni according to package directions.

In a small bowl combine sugar, salt, flour.

Place juice from pineapple in a pan along with the sugar combination.

Beat eggs and add to the pan.

Cook over low heat until the sauce thickens.

Pour over cooked macaroni, cover and refrigerate overnight.

The next day: Drain oranges and mix with pineapple and 8oz Cool Whip.

Combine with the macaroni.

Chill & serve.