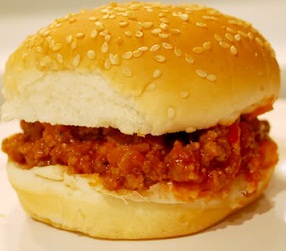 Mom's Sloppy Joe's
Simple to make, yummy to eat!

Ingredients:
1 lb Ground Beef

1 can Campbell's Healthy Request Tomato Soup

Onion Powder (to taste)

Salt & Pepper (to taste)


1 tbsp Worcestershire Sauce

Fresh rolls

Optional:
1/2 cup diced onions

1/2 cup diced peppers
Directions:
In a large shallow pan, brown ground beef.


Add salt, pepper & onion powder.

Stir in tomato soup.

Add Worcestershire Sauce, mix well.

Let simmer 10-15 minutes.

*If using optional onions & peppers, sauté them in Olive Oil
and then add ground beef and leave out onion powder.