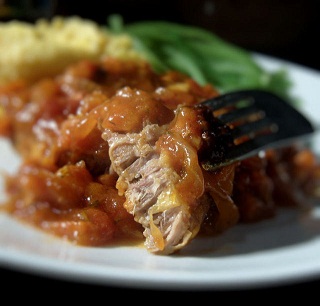 This is my mom's recipe.
I remember walking in from school and the house smelling of Swiss Steak…mmmmm
Use your crock-pot & dinner is made while you're at work!


Ingredients:
1-2 tbsp Olive oil

6 pieces round steak (about 1/2 inch thick & 4-5 inches across)

1/2 cup flour

1 tsp Fresh ground pepper

Lipton Beefy Onion Soup Mix

Water

Directions:
Place flour, pepper & round steak in a large zip-lock bag, shake to coat.

Heat Olive Oil in a large frying pan.

Brown meat in oil.

Place meat in crock-pot & sprinkle with onion soup mix.

Add enough water to cover the meat.

Cook on low 4-6 hours.
The longer it cooks the more tender it is.
We like this served with rice and veggies.