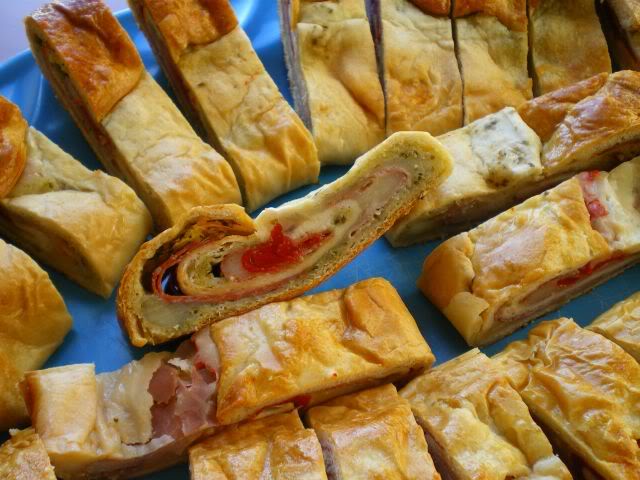 The Best Stromboli!
This recipe is from my father-in-law, Joe.
This is not an actual picture of out Stromboli, but it is the closest picture that I could find to give an idea of how it should look.
I will post a new picture the next time we make it!


Ingredients:
1/2 lb Provolone Cheese, sliced thinly
1/2 lb Genoa Salami, sliced thinly (Genoa Salami is cured in wine…this is important for taste)
1 jar Banana Peppers (hot or mild)
1 lb frozen bread dough (Rich's)
Directions:
Thaw dough according to package directions and cut in half.
Roll out each piece as thin as possible.
My father-in-law says, "when you think it's thin enough…roll it thinner". Thinner dough makes a better, light Stromboli.
3.  Arrange Salami, Cheese & Banana Peppers as shown in the diagram below: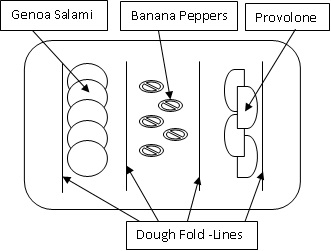 4.  There are 5 sections. Starting from left to right. Fold each section over the other.
5.  Section one (empty) over section 2 (salami) then fold that over Section 3 (banana peppers), then fold that over Section 4 (Provolone Cheese) and the final fold is over Section 5 (empty).
6.  Section 5 should be on the bottom.
7.  Turn both ends under to seal.
8.  Brush with olive oil.
9.  Bake at 350° for about 25 minutes or until golden brown.
10.  Slice in 1/2 slices and serve.
If you make it ahead of time, don't cut it and wrap it in aluminum foil. Heat in the oven when ready to serve. Do not microwave, that ruins the texture.
Warning: Once you make this, you will be asked to make it again & again.
It is delicious!