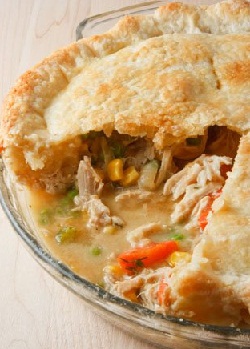 This is a family favorite
I tweaked the recipe a bit, it's  from
Country Cooking: Recipes for Traditional Country Fare
Ingredients:
Pastry:
1-1/2 cups flour

1/4 cup grated Parmesan cheese

2tbsp fresh minced parsley


1/2 tsp salt

1/4 tsp pepper

1 stick , chilled butter, cut into tablespoons

3-4 tbsp ice water

Filling:
2 cups chicken broth, homemade or store bought

1 small white onion, finely diced


2 cups peeled diced potato, yam or sweet potato

3/4 – 1 tsp fresh crumbled sage

1/2 tsp pepper

2 medium carrots, diced

2 cups broccoli florets, in bite size pieces


1/2 cup diced celery

1/4 cup flour

4 tbsp butter, softened

3 cups cooked chicken, in bite-size pieces

1 egg, beaten
Directions:
Make the pastry:
In a large bowl, combine the flour, Parmesan, parsley, salt and pepper.

With a pastry cutter or 2 knives, cut the butter in until the mixture resembles coarse meal.

Sprinkle on 3 tablespoons of ice water and work into the dough, adding up to 1 tablespoon more of water to form a dough that can be gathered into a ball.

Divide the dough in half, press each portion into a disc shape, wrap in plastic wrap and refrigerate at least 30 minutes.
Make the filling:
In a large saucepan, bring the chicken broth to boil over medium high heat.

Add the onions, potatoes/yam, sage, and pepper, and cook until the potatoes/yam are tender, about 5 minutes.

Add the carrots, broccoli, and celery, and cook until the carrots and broccoli are just tender, about 5 minutes longer.

In a small bowl, make the rue…with your fingertips, thoroughly blend the flour with the butter.

Increase the heat under the saucepan to high, pinch off pieces of the flour/butter mixture (rue), and drop them one at a time into the pan, stirring to incorporate after each addition.

Cook until the sauce has thickened slightly, 2-3 minutes.

Remove the pan from the heat and stir in the chicken.

Preheat the oven to 425°

Remove dough from the refrigerator and roll one of the discs into a 12 inch circle and fit it into a 9 inch pie pan, letting the extra dough hang over the edges.

Spoon the filling into the pastry shell.

Roll the other dough disc into a 9 inch circle and place it on top of the filling.

Trim the overhang from the bottom dough to about a 1/2 inch all the way around.

Fold the overhang in over the top crust, crimping to seal.

Cut steam vents in the top crust and brush with the beaten egg.

Bake the pie for 15 minutes.

Lower the temperature to 325° and bake for 10-15 minutes longer, or until the crust is golden.